At Frentech-uk we have a large range of brake caliper repair kits available with prices from as little as £6.99 including uk 1st class postage. Please contact us for a quote.
Repair Kit 1
Caliper repair kits contain the rubber components required to service / repair brake calipers.
The caliper repair kit in the image on the left is a fairly standard repair kit for a front caliper and contains the piston dust cover, the inner hydraulic piston seal, guide pin bellows and bleed nipple cap.
Front brake calipers are generally simple and easy to repair.
We will be creating a series of instructional video's over the coming months.
Buy from our eBay shop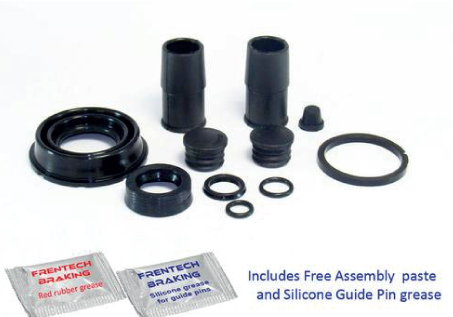 REPAIR KIT 02
This image shows a repair kit for a rear ATE (Teves) brake caliper. Rear calipers with built in handbrake mechanisms can be a little tricky and often require specialist tools.
Youtube can be a great source of instructional video's but if you are not sure, contact your local garage.
Buy from our eBay shop
Our Guide
Assembly Paste / Red Rubber Grease
Red Rubber Grease is used for assembly of hydraulic brake components, for example – brake caliper repair kits and caliper pistons. Rubber components are sensitive to chemicals, choosing the right lubricant for these parts is critical to ensuring the integrity of the part, we strongly recommend using only Red Rubber grease or other suitable products.
DO NOT USE SILICONE GREASE OR OIL BASED PRODUCTS