Frentech-UK brake caliper pistons, available to buy in various quantities depending on how many pistons you require per caliper.
Depending on what your vehicle requires, we can supply steel pistons, aluminium pistons and phenolic pistons to both trade and retail customers.
Frentech stocks pistons for a wide variety of vehicles, you can either search our eBay store or call us to find out what kit you need.
Remember, the piston surface seals the brake caliper, the piston should be in like-new condition. If the piston is pitted or scored, it should be replaced.
STEEL PISTONS
Steel pistons are perfect for heavy-duty, medium-duty, and passenger vehicles because of the increased durability and ability to withstand high compression pressures and operating temperatures.
Steel pistons have proven to be a reliable and durable component.
Buy from our eBay shop
ALUMINIUM PISTONS
Aluminium pistons are light weight and becoming increasingly poplular. They are made to suit all kinds of automotive brake systems and provide a lighter and more cost-effective solution for passenger vehicles.
Buy from our eBay shop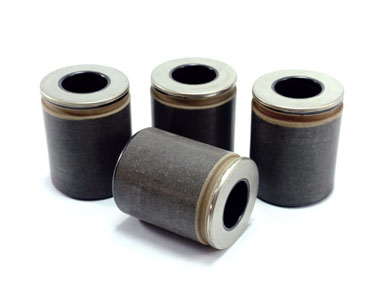 PHENOLIC PISTONS
Phenolic pistons are composite plastic, they are mold pressed, heated, and molded into shape.
They do not rust, are not affected by heat or moisture in the brake system, do not transfer heat to the brake fluid and are much lighter than steel. They are used in various OE applications.
Buy from our eBay shop
BREMBO CALIPER PISTONS
Brembo brake calipers are used by the most prestige and high performance vehicles from all around the world. Frentech caliper pistons are Brembo quality, without the Brembo price tag.
​​​​​​​​​​​​​​​​​​​​​Anodised aluminium pistons for Brembo brake calipers, light weight and extremely durable.
Buy from our eBay shop